Danish killing series 1 ending a relationship
The Killing: episodes 19 and 20 | Television & radio | The Guardian
In the run-up to The Killing's third season airing on BBC4, James celebrates the Danish crime series that brought us Sarah Lund The discovery of the girl's body in a car at the end of episode one leads to Lund being drawn into an An idea of Lund's past can be gleaned from the character's relationship with her mother. Politically this is the final step because we started out [in series one] in in the relationship drama Nikolaj og Julie, a sort of Danish Cold Feet. The Killing (Danish: Forbrydelsen) is a Danish police procedural drama television series The series is noted for its plot twists, season-long storylines, dark tone and for .. As a parent she is struggling to repair her relationship with Mark. have a detective drama over 20 episodes – other series had one killing per episode.
Share via Email The Killing: Stop reading if you haven't seen the final episodes of the series So finally we know. There were no complicated political connections to untangle; no new characters. Just two misguided men who managed to convince themselves that their actions were justified; that they were only helping the friend they worshipped.
Enraged by her relationship with "a towelhead", he went to the flat to talk to her — but she wouldn't listen. He drove her to the woods, chased her when she got away, and then left her to drown in the car because he was unable to kill her outright. Vagn also killed Meyer, who simply blocked his escape route from the warehouse where he'd been hunting for the incriminating 10th grade picture.
He presumably also saw off Leon, who Bengt's pathologist contact confirmed had come into contact with a shotgun before his apparent suicide. Vagn being unveiled as the killer provoked mixed reactions for me — slight disappointment that it was someone who'd looked a bit shifty from day one, coupled with relief that it was someone who made sense as the murderer.
More to the point, the reveal was brilliantly done. The scene with Lund and Vagn in the house alone was electrifying. Was anyone else holding their breath as Vagn zipped up his hoodie and revealed that the line being used to incriminate Sarah was something else entirely?
Not to mention the menacing: To have Vagn return to the scene of the crime, to first explain — "We all loved her, but suddenly she didn't care about me — and you as well, right? Not least because of Pernille, and the parallels with Theis' beating of the teacher. Morten So Rie was our red herring.
The Killing (Danish TV series) - Wikipedia
And Morten actually the more ruthless, power-hungry of the pair. An injured Raben persists in accusing Strange of being the officer responsible for the massacre, yet it is later officially confirmed that he had left Afghanistan before the killings. Lund is uneasy about Strange's alibis for the murders, but takes him with her to Afghanistan to investigate a new suspect.
Lund's persistence results in the discovery of the bones of the Afghan civilians. Upon returning to Denmark, Lund meets her mother, who has had a premonition of Lund lying dead. Following a further search of a military barrackssuspicion falls on Captain Bilal, an anti- Taliban Muslim who kidnaps Raben's wife Louise.
The Killing: episodes 19 and 20
Raben and Jarnvig lead Lund and Strange to Bilal, who blows himself up before they are able to question him. Strange volunteers to return Raben to the mental hospital, but Lund insists on driving them. There is plenty of action, but little of it as frenetic as in 24, The Wire or The Shield.
I never saw anything remotely touching. I wanted to change all that. It makes you wonder why they didn't just screen the Danish original. Outside Copenhagen airport, the railway station offers me a choice.
In one direction, trains go towards Ystad in nearby Sweden, where Henning Mankell's Detective Kurt Wallander oversees the sleepy town's counterintuitively high body count. The other way, they go to central Copenhagen, beat of small, Nicorette-chewing, Christmas-jumper-wearing, sleep deprived, borderline sociopathic, disturbingly affectless and scarily stary police commissioner Sarah Lund.
The Killing (season 1) - Wikipedia
Who wouldn't choose the latter? She's just finishing rehearsals, but something's wrong. The posters are for My Fair Lady. Surely Lund is the last woman in the world who would succumb to a Henry Higgins makeover? She laughs at the idea that she could sing Eliza Dolittle. Sarah Lund laughs — the very idea! She's at the latter, where she's rehearsing for an adaptation of Ingmar Bergman's Fanny and Alexander, which makes much more sense.
The Killing's Sofie Gråbøl: 'I'm not emotional about leaving Sarah Lund – she's fiction'
The Killing: in cold blood
As I walk along Nyhavn, Copenhagen's picturesque waterfront, tourists are lounging at pavement cafes overlooking boats on the canal, some tucking into suppers involving three types of herring.
Suddenly I see a familiar pair of eyes in the crowd. But those huge, beautiful eyes don't belong with that soft, wavy hairdo, nor with that smile, nor with the scarf that matches that jacket so well.
Sarah Lund never did accessorise unless wellies with jeans is accessorising. But this is the woman who plays Lund. We walk along the canal to the theatre. I catch a sidelong glance — she's wearing heels! You don't walk like Lund did. I copied the director of the first three episodes, who was a little macho in his walk.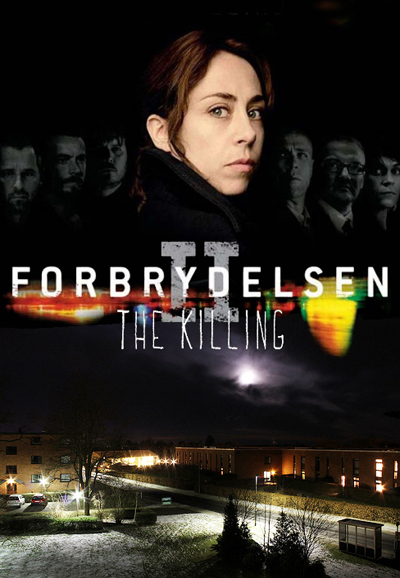 By the way, how do you pronounce your surname, I ask, mystified by those diverting Danish diacritics. Of course it does — just as Susan Sarandon rhymes with abandon.
We settle in the cafe of the thrilling new Kongelige Skuespilhus, with its stupendous view of Copenhagen's canals. What drew you to playing Lund — was it the idea of playing a tough woman cop in an overwhelmingly male milieu?